Your Portland Oregon Decking & Railing Experts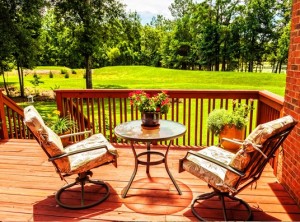 For more than 25 years local homeowners in the Portland Oregon area have counted on Erin Isle Construction for beautifully designed, expertly constructed decking and railings. When you turn to us for decking in Portland, OR or any of the surrounding areas, our experienced design team will work with you to craft the deck and railings of your dreams using top quality materials. We offer a wide range of decking and railing styles and have the design and construction experience to build your new deck directly onto your existing property.
Advanced Decking Materials
At Erin Isle Construction, we install decking and railing materials that utilize composite wood fiber and recycled plastic, creating plank material that is more durable and fade-resistant than straight wood. This material is easy to maintain, extremely durable, and a leading choice for homeowners across the country. A deck from Erin Isle Construction will stand up to nearly anything that our often challenging Oregon climate can throw at it.
By installing a stunning, spacious new deck onto your home, we at Erin Isle Construction will provide you with an outdoor living space that is perfect for family dinners, date night, or even just relaxing with a good book. Whether you opt for a roofed or open deck, we are your Portland Oregon decking and railing experts when it comes to high quality design and construction.
To get started on your decking and railings project today, give us a call or fill out our convenient online contact form to schedule your free in-home consultation!
Call for a FREE Estimate on Decking for Portland, OR Area Homeowners
To get started on your residential or commercial remodeling project today, call Erin Isle Construction at (503) 691-9096 and schedule your free, in-home, no obligation consultation with the Portland area's leading experts on exterior remodeling.