What Type of Deck Will Work Best for Your Home?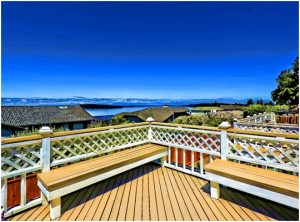 Think your only choice in decks in Portland OR is wood? Think again! Erin Isle Construction offers a wide range of deck materials to enhance your home. Using a mix of traditional and advanced materials, our deck design experts can help you create a beautiful and functional outdoor living space that delivers many years of enjoyment and value.
Here's a rundown on three of the most popular types of decks we install:
Wood – Traditional, natural and warm, wood has been the leading choice for decks in Portland OR for generations. Typically, our wood decks use cedar or hardwood, but we have also installed decks using exotic woods such as teak, which provides an incredibly beautiful – yet durable – look. We also create dramatic wood decks by designing unique deck railings using contrasting colors and materials, such as intertwined branches, wrought iron, or glass panels.

Composite Decking – Breakthroughs in material science have created a range of products known collectively as "composite decking." Composite materials have the look and feel of wood, without the maintenance requirements. They are made up of wood chips and polymers that create a solid durable board that resists fire, water penetration and insects, and can be cleaned with a garden hose. Our composite decks come with 25-year warranties from our decking manufacturers, Timbertech® and Trex® that exceed the expected service life of a wood deck.

Dectec – A recent addition to our decking materials line, Dectec is a high-tech rubber layer that is put down on top of plywood sheets, then heat sealed. This creates an impermeable deck surface, in a choice of four colors. The bonus of Dectec is that the sealed deck becomes an waterproof roof over the area underneath the deck, which can be used for storage or additional patio space that is protected from the rain.
The right choice? That depends on many factors, including the size and intended use of your deck, your home's architectural style, your tolerance for deck maintenance, and your budget. Your first move should be to meet with one of the experienced deck professionals from Erin Isle Construction to discuss your deck ideas.
Call for a FREE Estimate on decks in Portland OR
Call Erin Isle Construction at (503) 691-9096 and or complete our online form to schedule your free, in-home, no obligation consultation with the leading experts on decks in Portland OR.