Stylish and Functional Deck Railings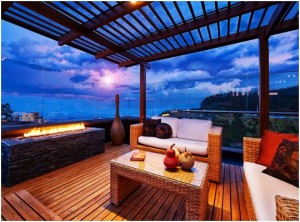 At Erin Isle Construction we design and build decks that add more than just useful space. We bring a touch of stylish design to every deck project. That includes a wide variety of deck railings that add a unique look while providing functional protection.
Today's construction materials allow our deck design and construction experts to create a range of options for deck railings for Portland OR homes. Choices in colors and accessories abound, so we can help you design a deck with railings that provide a distinctive design and also deliver years of enjoyment and value.
Here are just a few ideas you might consider for your new deck railings:
Get creative with wood. Wood is a traditional material for deck railings in Portland OR, and offers a natural look and feel. But that does not mean you have to stick with plain post and rail design. We've built decks using reclaimed wood that creates a rustic look, and with intertwined branches that make sitting on your deck feel like you are in the middle of a forest. An increasingly popular wood railing design is lattice, which still allows cooling breezes but also provides a degree of privacy for your deck.
Use glass and metal – Introducing a new material to a wood or composite deck can have a dramatic effect. A wrought iron railing bordering a wood deck gives an interesting contrast while keeping the view from the deck open. Even more spectacular is the use of glass panels in lieu of wood rail posts. Erin Isle Construction can install thick, durable clear glass for wide views, or opaque panels for privacy.
Have fun with color. There is no rule that says your deck railings have to match your deck. Contrasting colors can set off the railings and create a defined border around the deck space. Bright colors can offset a dark toned deck, and can be coordinated with deck furniture to complete the look.
Accessorize – Enhance the beauty and functionality of your new deck with add-ons like post caps in contrasting colors or materials. Or let us build in lighting fixtures that extend your enjoyment into the evening hours. Options include post top lanterns or under-rail, indirect lighting.
A new deck is an excellent investment in your home, creating useful outdoor living space that can be enjoyed through most of the year. Turning that new deck into an attractive and livable space with dramatic deck railings will enhance its value and make spending time on your deck even more fun.
Call for a FREE Estimate on decks in Portland OR
Want to start enjoying the space and freedom of a new deck in your backyard? Call Erin Isle Construction at (503) 691-9096 or complete our contact form to schedule your free, in-home, no obligation consultation with the leading experts on decks in Portland OR.